Dale of Merchants 3
2020
Six new animalfolk decks with new tricks
Warning: Trying to access array offset on value of type null in /home/u66218/public_html/wp-content/themes/toiminimi/functions.php on line 477
Add to cart
in stock
19,95 €~ 21,50 USDEstimated exchange rates. The exact amount will depend on your payment provider.
~ 29,20 CAD
~ 17,10 GBP
~ 32,80 AUD
~ 225,10 SEK
~ 235,70 NOK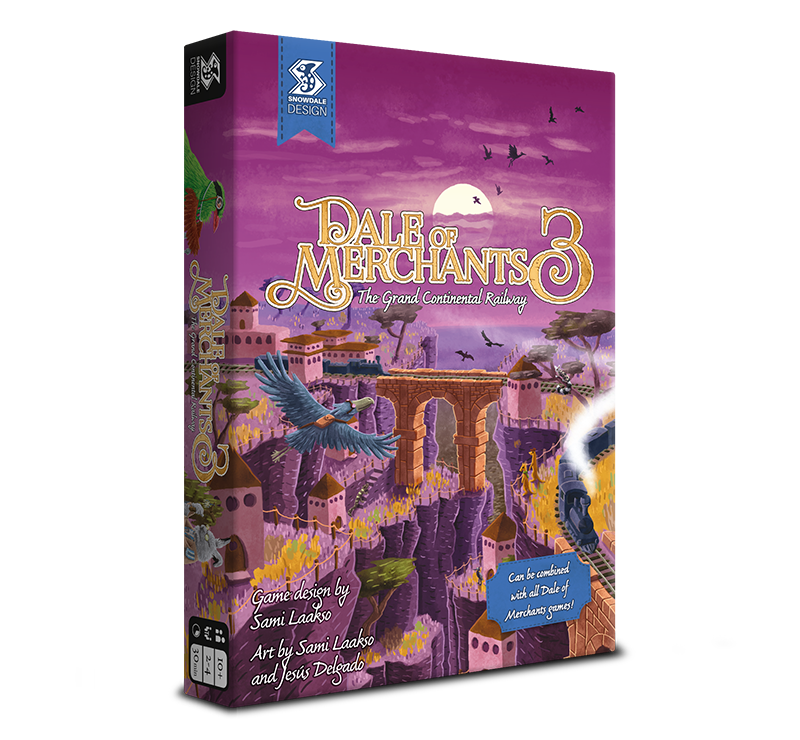 Contents of the game 🇬🇧
6 animalfolk decks, 15 cards per deck

Desert Monitors
White-headed Lemurs
Green Magpies
Short-beaked Echidnas
Snowshoe Hares
Grizzled Tree-kangaroos

20 junk cards
1 double-sided market game board
1 custom wooden die
Warning: Undefined array key 0 in /home/u66218/public_html/wp-content/themes/toiminimi/single.php on line 139
All Snowdale games also include
Warning: Trying to access array offset on value of type null in /home/u66218/public_html/wp-content/themes/toiminimi/single.php on line 186
Dale of Merchants 3 is a stand-alone game which introduces 6 new animalfolk decks. It can be played by itself. However, it is even better when combined with other games from the Dale of Merchants series.

Each deck is themed around different animalfolks with a different gameplay focus and mechanics. For example, Sharing Short-beaked Echidnas borrow cards from other players while Prepared Grizzled Tree-kangaroos are good at protecting their own valuables.
Dale of Merchants 3 has been released in multiple languages. The list of languages can be found from the series page.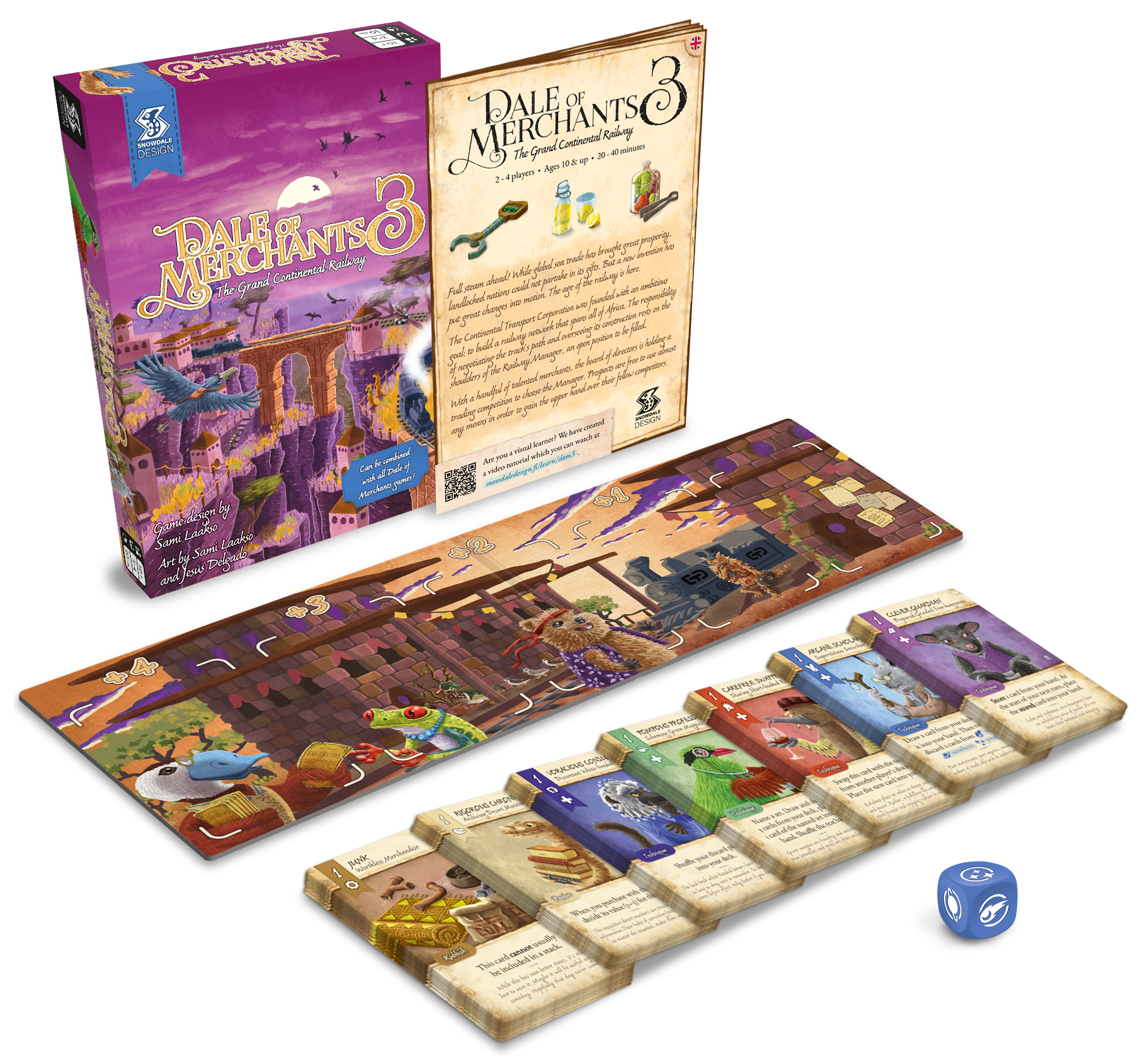 Warning: Trying to access array offset on value of type null in /home/u66218/public_html/wp-content/themes/toiminimi/functions.php on line 477
Warning: Trying to access array offset on value of type null in /home/u66218/public_html/wp-content/themes/toiminimi/functions.php on line 477
Warning: Trying to access array offset on value of type null in /home/u66218/public_html/wp-content/themes/toiminimi/functions.php on line 477
Warning: Trying to access array offset on value of type null in /home/u66218/public_html/wp-content/themes/toiminimi/functions.php on line 477
Warning: Undefined array key 0 in /home/u66218/public_html/wp-content/themes/toiminimi/functions.php on line 458
Warning: Undefined array key 0 in /home/u66218/public_html/wp-content/themes/toiminimi/functions.php on line 477
Warning: Attempt to read property "ID" on bool in /home/u66218/public_html/wp-content/themes/toiminimi/functions.php on line 665
Warning: Trying to access array offset on value of type null in /home/u66218/public_html/wp-content/themes/toiminimi/functions.php on line 477
Warning: Attempt to read property "ID" on bool in /home/u66218/public_html/wp-content/themes/toiminimi/functions.php on line 665
Warning: Undefined array key 0 in /home/u66218/public_html/wp-content/themes/toiminimi/functions.php on line 458
Warning: Undefined array key 0 in /home/u66218/public_html/wp-content/themes/toiminimi/functions.php on line 477
Warning: Attempt to read property "ID" on bool in /home/u66218/public_html/wp-content/themes/toiminimi/functions.php on line 665
Warning: Trying to access array offset on value of type null in /home/u66218/public_html/wp-content/themes/toiminimi/functions.php on line 477
Warning: Attempt to read property "ID" on bool in /home/u66218/public_html/wp-content/themes/toiminimi/functions.php on line 665
Warning: Trying to access array offset on value of type null in /home/u66218/public_html/wp-content/themes/toiminimi/functions.php on line 477
Warning: Attempt to read property "ID" on bool in /home/u66218/public_html/wp-content/themes/toiminimi/functions.php on line 665
Warning: Trying to access array offset on value of type null in /home/u66218/public_html/wp-content/themes/toiminimi/functions.php on line 477
Warning: Attempt to read property "ID" on bool in /home/u66218/public_html/wp-content/themes/toiminimi/functions.php on line 665
Warning: Undefined array key 0 in /home/u66218/public_html/wp-content/themes/toiminimi/functions.php on line 458
Warning: Undefined array key 0 in /home/u66218/public_html/wp-content/themes/toiminimi/functions.php on line 477
Warning: Attempt to read property "ID" on bool in /home/u66218/public_html/wp-content/themes/toiminimi/functions.php on line 665
Warning: Trying to access array offset on value of type null in /home/u66218/public_html/wp-content/themes/toiminimi/functions.php on line 477