Dale of Merchants series
A fresh take on the deck building genre
Warning: Trying to access array offset on value of type null in /home/u66218/public_html/wp-content/themes/toiminimi/functions.php on line 477
Warning: Trying to access array offset on value of type null in /home/u66218/public_html/wp-content/themes/toiminimi/functions.php on line 477
Warning: Trying to access array offset on value of type null in /home/u66218/public_html/wp-content/themes/toiminimi/functions.php on line 477
Warning: Trying to access array offset on value of type null in /home/u66218/public_html/wp-content/themes/toiminimi/functions.php on line 477
Warning: Undefined array key 0 in /home/u66218/public_html/wp-content/themes/toiminimi/functions.php on line 458
Warning: Undefined array key 0 in /home/u66218/public_html/wp-content/themes/toiminimi/functions.php on line 477
Warning: Attempt to read property "ID" on bool in /home/u66218/public_html/wp-content/themes/toiminimi/functions.php on line 665
Warning: Trying to access array offset on value of type null in /home/u66218/public_html/wp-content/themes/toiminimi/functions.php on line 477
Warning: Attempt to read property "ID" on bool in /home/u66218/public_html/wp-content/themes/toiminimi/functions.php on line 665
Warning: Undefined array key 0 in /home/u66218/public_html/wp-content/themes/toiminimi/functions.php on line 458
Warning: Undefined array key 0 in /home/u66218/public_html/wp-content/themes/toiminimi/functions.php on line 477
Warning: Attempt to read property "ID" on bool in /home/u66218/public_html/wp-content/themes/toiminimi/functions.php on line 665
Warning: Trying to access array offset on value of type null in /home/u66218/public_html/wp-content/themes/toiminimi/functions.php on line 477
Warning: Attempt to read property "ID" on bool in /home/u66218/public_html/wp-content/themes/toiminimi/functions.php on line 665
Warning: Trying to access array offset on value of type null in /home/u66218/public_html/wp-content/themes/toiminimi/functions.php on line 477
Warning: Attempt to read property "ID" on bool in /home/u66218/public_html/wp-content/themes/toiminimi/functions.php on line 665
Warning: Trying to access array offset on value of type null in /home/u66218/public_html/wp-content/themes/toiminimi/functions.php on line 477
Warning: Attempt to read property "ID" on bool in /home/u66218/public_html/wp-content/themes/toiminimi/functions.php on line 665
Warning: Undefined array key 0 in /home/u66218/public_html/wp-content/themes/toiminimi/functions.php on line 458
Warning: Undefined array key 0 in /home/u66218/public_html/wp-content/themes/toiminimi/functions.php on line 477
Warning: Attempt to read property "ID" on bool in /home/u66218/public_html/wp-content/themes/toiminimi/functions.php on line 665
Warning: Trying to access array offset on value of type null in /home/u66218/public_html/wp-content/themes/toiminimi/functions.php on line 477
Games in the Dale of Merchants series
---
Dale of Merchants 2015

The first game in the series, which put an innovative spin on the deck building genre.

Dale of Merchants 2 2016

A stand-alone sequel introducing six new animalfolk decks to the series.

Dale of Merchants 3 2020

A stand-alone sequel with yet another six new animalfolk decks with new tricks.

Dale of Merchants Collection 2019

New decks, new gameplay features, and a larger box for storing all content in the series.

Dale of Merchants: Beaver expansion 2016

A single deck mini expansion featuring the Systematic Eurasian Beavers.
Every Dale of Merchants game, except the Beaver expansion, is a stand-alone product and a good starting point to the series. They do not require the earlier games in order to be playable. However, all games in the series are fully compatible with each other. Decks and other elements can be freely combined across the games for increased gameplay depth and variability.
Accessories
Enhance your playing experience
---
Premium custom sleeves

Protect your cards with style! The sleeves feature custom print and anti-glare matte finish.

Playmat for one player

Upgrade your game. A huge selection of animalfolks available.

Playmat bag

Store your playmats in a handy bag made from sturdy canvas fabric.

Update pack

Order updated cards if you own a Dale of Merchants game printed before 2019.
Bundles
Save with pre-made sets
---
Dale of Merchants: Complete series

Get all games in the series at a discounted price!

Playmat bundle

Get 4 playmats and the bag at a discounted price!

Playmat mystery bundle

Save even more if you don't care which playmat designs you get.
Introduction
What is Dale of Merchants?
---
Dale of Merchants is a series of deck building games developed by Snowdale Design. The games are set in Daimyria, a world of animalfolks. Other games taking place in the same setting are Dawn of Peacemakers and Lands of Galzyr.
A deck building game or a deck builder is a type of a card game where construction of a player's deck takes place primarily during the game and is an important aspect of the gameplay. Dale of Merchants is a fresh take on the deck building genre and boldly breaks the norms to deliver a unique and gripping experience to fans of competitive card games.
The core component in the series is the animalfolk decks. Each deck is themed around a single animalfolk and contains a variety of multipurpose cards representing the qualities common to said animalfolk. Every game in the series includes a unique selection of animalfolk decks.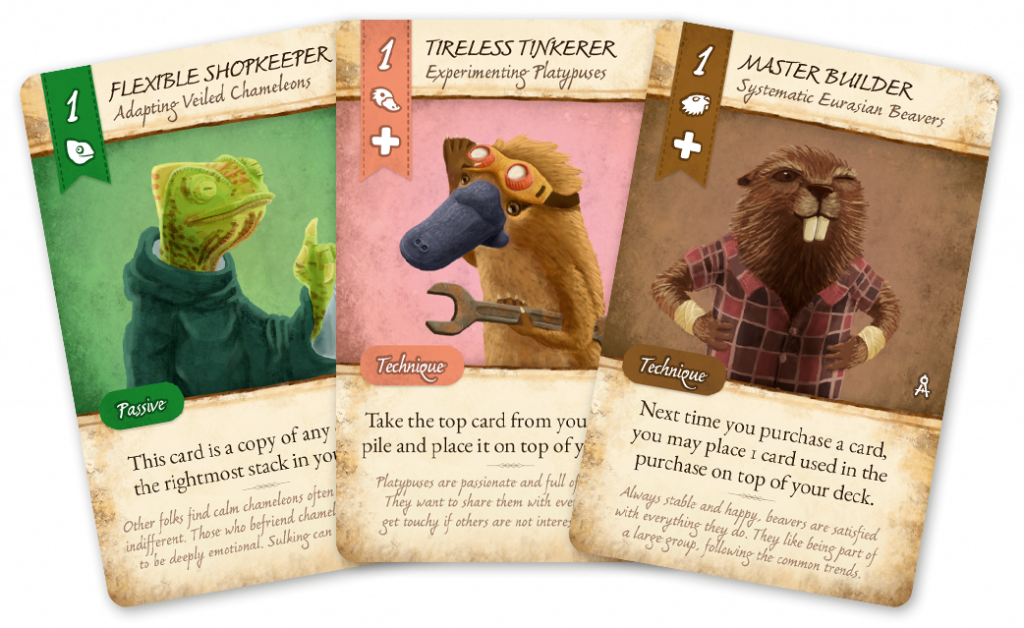 For each game, the players pick the animalfolk decks to be used. As each deck is unique and focuses on different aspects of the gameplay, this selection allows the players to customize each game to their liking. For example, the amount of player interaction can be increased by including decks that allow stealing other players' cards or otherwise disrupting their game plan. As a result, each game is very different from the last.
We've designed a few ways to help you with the decision of choosing the decks to play with. Here's a handy tool to pick the decks for you in addition to themed sets to explore and here's a list of all decks released for the series so far. Dale of Merchants Collection also comes with deck selection cards with descriptions for each deck.
Gameplay overview
How do you play Dale of Merchants?
---
The objective of the game is to build a complete merchant stall by playing eight stacks of cards in ascending value. The first player to do so is the winner.
After choosing a number of animalfolk decks to play with, each player's starting deck is formed by taking one of the lowest value cards from each of the chosen animalfolk decks. Junk cards are then added until the players' decks have a total of 10 cards each.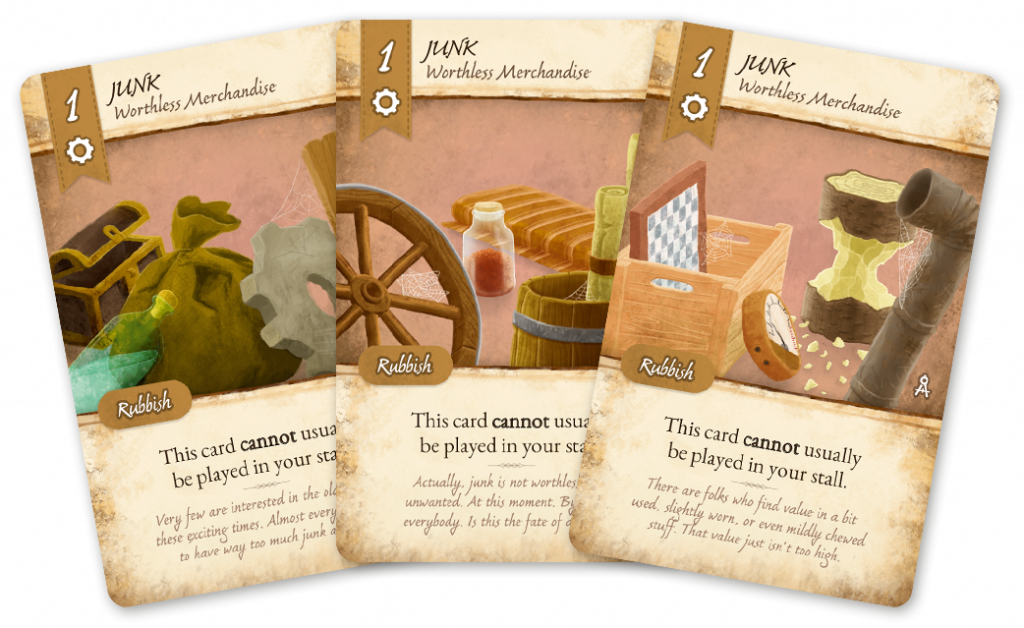 The rest of the cards in the animalfolk decks are shuffled together to form the market deck. During their turn the players are able to purchase cards from the market by paying the appropriate price by using their own cards. Purchased cards are placed in the players' hands. As cards leave the market, new ones are drawn from the market deck to replace them. Keep in mind that the newest stuff tends to be quite overpriced!

At the start of the game and at end of their turn, players draw cards from their deck until they have 5 cards in hand. As unused cards are not discarded at the end of the turn, cards can be saved for later turns for a better opportunity or a powerful combination. During their turn the players have several possible actions they can take. They can do any of the following.
Purchase a card from the market
Play a card to use its technique effect
Build a new stack in their merchant stall
Discard cards to organise their hand
Using any of these actions ends the active player's turn unless a card effect allows the player to continue. Many technique cards feature a bonus action icon (+) that allows the player to take another action after resolving the card's technique. Additionally, many cards feature passive or previously initiated delayed effects that can be resolved during a player's turn.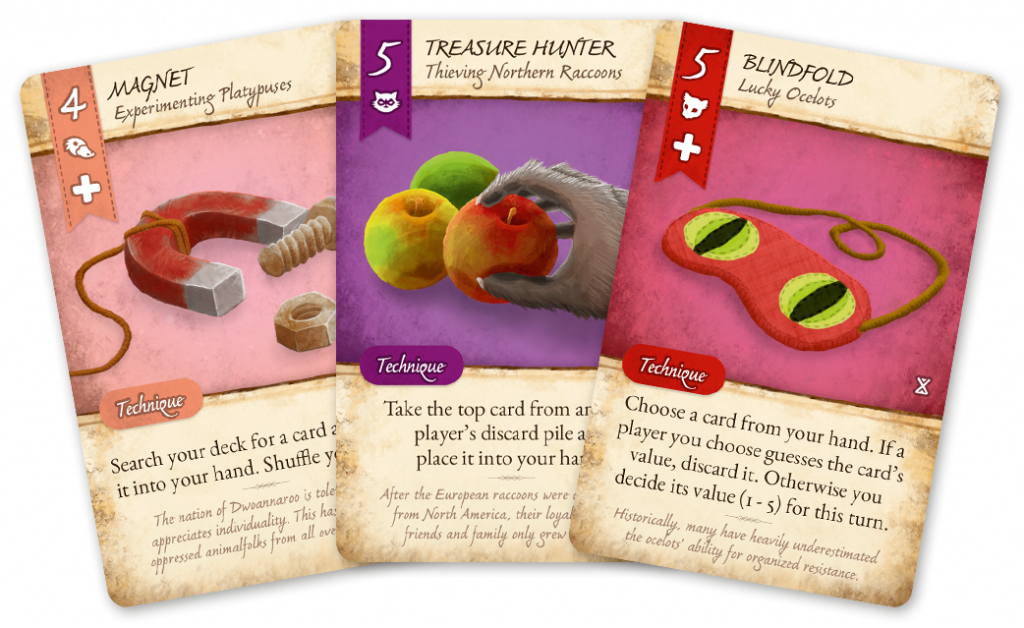 Whenever a card is used for an action, it is placed on the player's discard pile. Whenever a player's deck runs out, the discard pile is reshuffled to form a new deck. Some card effects allow manipulating the decks and discard piles, even those of other players!
Stacks in a player's merchant stall are built in an ascending order, with their values increasing from 1 to 8. Stacks are built by playing a combination of cards from the same animalfolk deck with an appropriate total value. When a stack is built, those cards can no longer be used for other actions. As always, some card effects may allow the player to bend these rules. When a player completes their 8th stack they immediately win the game.
Paths to victory may differ greatly from game to game but finding the right balance between acquiring new cards, utilising techniques, and building stacks remains a crucial challenge. Building too quickly could leave a player's deck weak and unable to complete the final stacks, allowing others to catch up. On the other hand, neglecting to build stacks when an opportunity arises might allow an opponent to get too far ahead. At the same time, card effects should be used to maximise the effectiveness of one's own deck or to hamper the competitors.
Awards and honours
Acclaimed fame from the press
---
The game series has received countless awards and honours from various reviewers. You can see a selection of these below. Click on an award to read or watch the review in question.
Dale of Merchants language releases
Experience Dale of Merchants in your native language
---
Snowdale Design co-operates with other publishers to bring Dale of Merchants games to languages besides English. The list below displays all of the currently available Dale of Merchants releases.
Dale of Merchants
Dale of Merchants 2
Dale of Merchants 3
Dale of Merchants: Collection
Dale of Merchants: Beaver expansion
---
Read more about the individual games on their own pages linked below. All English Dale of Merchants products can be purchased from our online store.