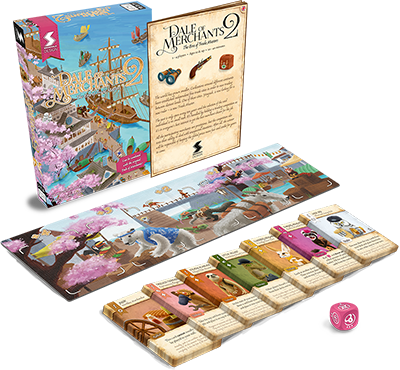 Contents of the game
6 animalfolk decks, 15 cards per deck
20 junk cards
1 double-sided market game board
1 custom wooden die
1 detailed rulebook
Download rules
//var_dump(get_sub_field('hide')); ?>
Awards and honours
Reviews
//var_dump(get_sub_field('hide')); ?>
Previews
//var_dump(get_sub_field('hide')); ?>
Other resources
//var_dump(get_sub_field('hide')); ?>
Dale of Merchants 2 is a stand-alone game. It contains 6 brand new animalfolk decks and can be played by itself or combined with the decks from the original Dale of Merchants for even more gameplay possibilities.
There's also a new ruleset for 4 players introducing a team battle! These new rules greatly enhance the 4 player experience by adding cooperation between teammates and cutting down downtime. They can even be used with the original game's 6 decks.
Snowdale Design collected funds to bring Dale of Merchants 2 to life with Kickstarter in May of 2016. The game was released in October of 2016 and is up for purchase.
Dale of Merchants 2 has been released in multiple languages. The list of languages can be found from the series page.