Dale of Merchants – Update pack
Refined card effects
A small number of cards in the Dale of Merchants series can create gameplay issues when combined with the new mechanics introduced in Dale of Merchants Collection. To address this, the cards in question have received slight tweaks which will be in effect for every new print run of the games going forward. For the owners of older versions of the games, we've made a free update pack which includes a full set of the changed cards and also a few cards that have had their card text reworded or clarified.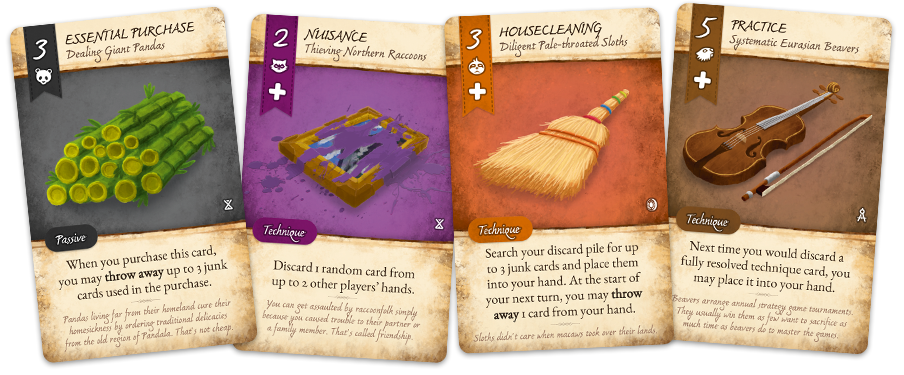 Game versions affected
How to know if you need the update pack?
---
Any Dale of Merchants games printed in 2019 or later will include the updated cards by default. Games older than that have the original cards and their version numbers are listed below. You can find the version number of your game at the back of the game box near the bar code (or on the card with the bar code in case of the Beaver expansion).
Dale of Merchants versions affected
SWG150101
SWG160102
SWG170103
Dale of Merchants 2 versions affected
Systematic Eurasian Beavers mini expansion version affected
If you own one or more games with the old versions of the cards, you can order the update pack from our online store. The pack itself is free so you can purchase it by paying only for the shipping. Alternatively, you can add the pack to your order while you purchase something else. Please note that while the update pack is always beneficial, it isn't absolutely needed unless you plan to combine your game with Dale of Merchants Collection.
Updated cards
Cards included in the update pack, sorted by game
---
Dealing Giant Pandas
Thieving Northern Raccoons
Hoarding Flying Squirrels

3 – Nostalgic Item
4 – Acorn

Lucky Ocelots
Diligent Pale-throated Sloths
Intimidating Dwarf Crocodiles

1 – Little Villain
2 – Scary Gunfight
5 – Nasty Threat
5 – Lost Shipments

Observant Snowy Owls
Systematic Eurasian Beavers mini expansion
Systematic Eurasian Beavers