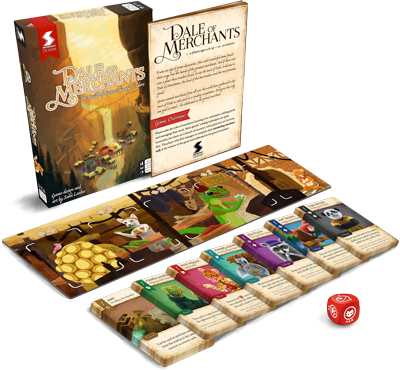 Contents of the game
6 animalfolk decks, 15 cards per deck
20 junk cards
1 double-sided market game board
1 custom wooden die
1 detailed rulebook
Download rules
//var_dump(get_sub_field('hide')); ?>
Awards and honours
Reviews
//var_dump(get_sub_field('hide')); ?>
Previews
//var_dump(get_sub_field('hide')); ?>
Other resources
//var_dump(get_sub_field('hide')); ?>
Do you give up a chance to use a splendid action in favor of getting even more astounding cards? Since every card can be used in multiple ways, Dale of Merchants requires some tough choices. You can't win the game without letting go of your cards. Dive into Daimyria and meet the cast of colourful animalfolks!
The goal of the game is to finish up your merchant stall before anyone else. The first player to do so is awarded with the access to the legendary Guild of Extraordinary Traders.
With 6 different decks, the replay value of the game is extremely high. You get fresh gameplay by mixing various decks from game to game. Do you want to play with the Thieving Northern Raccoons, bend the rules with Adapting Veiled Chameleons or bring total chaos with Lucky Ocelots? The first player to complete astounding merchant stall is the winner of the game.
If you still ever think that the game doesn't have enough variation, there is also Dale of Merchants 2 which is fully compatible with this first game.
Dale of Merchants is for 2 to 4 players, ages 10 and up and takes approximately 20 – 40 minutes to play. It includes 110 cards with almost 40 unique illustrations.
Snowdale Design collected funds to bring Dale of Merchants to life with Kickstarter in July of 2015. See the list of all backers! The game was released in November 2015 and is up for purchase.
Dale of Merchants has been released in multiple languages. The list of languages can be found from the series page.